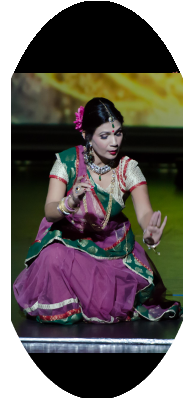 Welcome to Geet-Rung™ School of Dance and Music !
Where dance and music are not just Passion - but Devotion !
We aim to preserve and promote Indian culture by training our students in classical Dance and Music; and inculcating strong morals and ethics at the same time.
We offer classes for North Indian style of Classical Dance - Kathak - one of the oldest among the eight classical dance forms of India. We follow the syllabus prescribed by 'Bharatiya Sangeet Prasarak Mandal, Pune' and award certificates to the students on the successful completion of the course.
We also believe in keeping our students updated with the modern style of dancing and teach them film dances based on the classical as well as the bollywood moves.
Divya Srivastava, Founder and Director of Geet-Rung School of Dance and Music, is a gifted dancer, experienced Instructor and skilled Choreographer. She started her classical training at an early age in India and continued to have advance learning from Smt. Shweta Garg a senior disciple of Pt. Sri Girdhari Maharaj of Jaipur Gharana, Jaipur, Rajasthan.